Analysing your company's spend structure is often the first step towards building a data-driven procurement organisation. The challenge for companies that have jumped on the analytics bandwagon is translating analytics into fact-based actions that enable procurement savings. In this article, we'll discuss some promising cost-reduction strategies enabled by analytics that can help grow your procurement savings exponentially.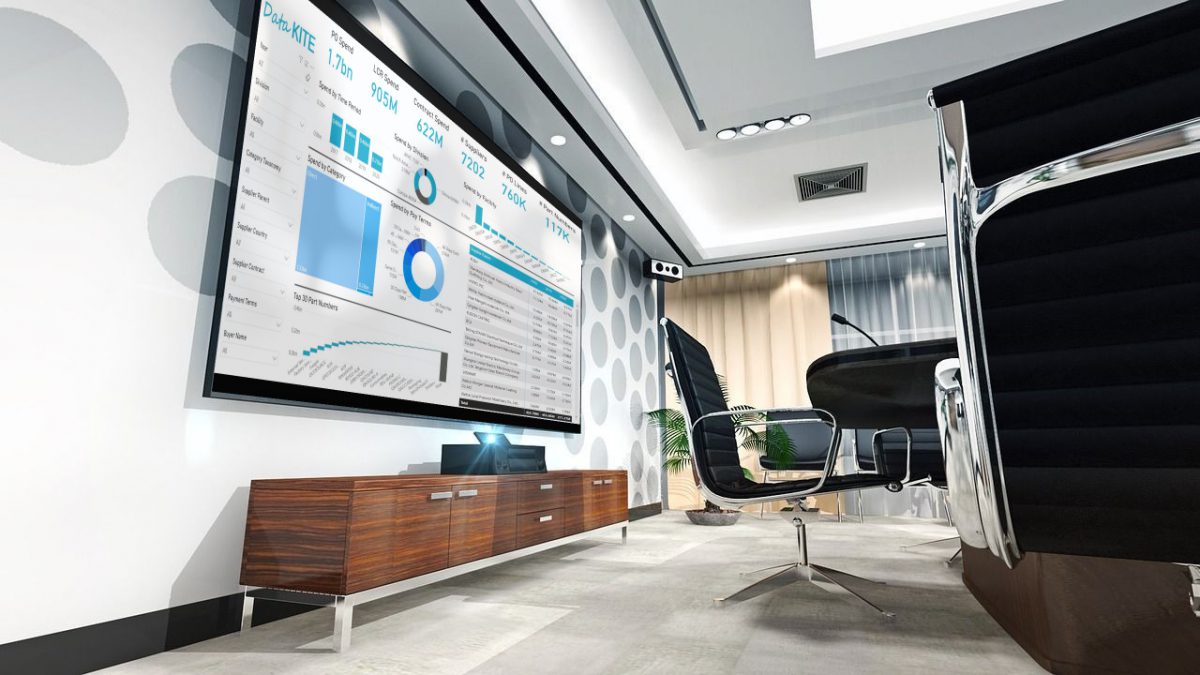 The procurement function is continuously under pressure to reduce costs.
In order to expand organically, introduce new products/services, and manage risk, procurement plays a crucial role in business strategy development. Today's management, however, still prioritize cost reduction as their top priority, so throughout the business, the procurement function is continuously under pressure to reduce costs.
To meet this demand, most organisations lack end-to-end understanding and an end-to-end view of their expenditures, which is prerequisite to a structured and disciplined analysis of procurement data. Without a procurement analytics system, savings opportunities are hidden and decisions are based on intuition, which is risky. Yet, many organizations fail to incorporate procurement analysis outputs into their strategic decision-making, so they are unable to realise their full cost-saving potential.
At DataKITE, we believe it's time for companies to reassess this approach.
Procurement Cost Reduction Strategies
1. Bundling
There are several strategic levers to reduce procurement costs – bundling, or consolidating spend, is one of them. Consolidating spend usually results in significant savings. In short, bundling refers to securing standardised contract terms with the same supplier across the business, or consolidating spend with one or fewer suppliers than the status quo.
To identify bundling opportunities, you should analyse the number of suppliers used across spend categories and total spend per category.
In some cases, using multiple suppliers per category may be appropriate, even though the products or services are relatively standardised across the supplier market. But this is certainly not always the case. For example, if you use 12 safety suppliers with an annual spend of 60 million, there's probably considerable potential in consolidating spend.
DataKITE example of analysis: Spend and number of suppliers by category
.
2. Maverick spend by categories and departments.
Analysing maverick spending across categories and the organisation (e.g. departments, business units, etc.) can also highlight savings opportunities.
Many companies have supplier contracts in place to meet all their needs in the different categories, but often have challenges related to maverick spending. If contract loyalty is low per category, and throughout the organisation, you must take action to ensure that spend is consolidated with your priority suppliers.
One commercial strategic lever which can be a "quick win", is to renegotiate your existing contracts. A negotiation can yield significant savings through improved contract terms.
To identify possible renegotiation candidates, we recommend analysing contracted spend by supplier.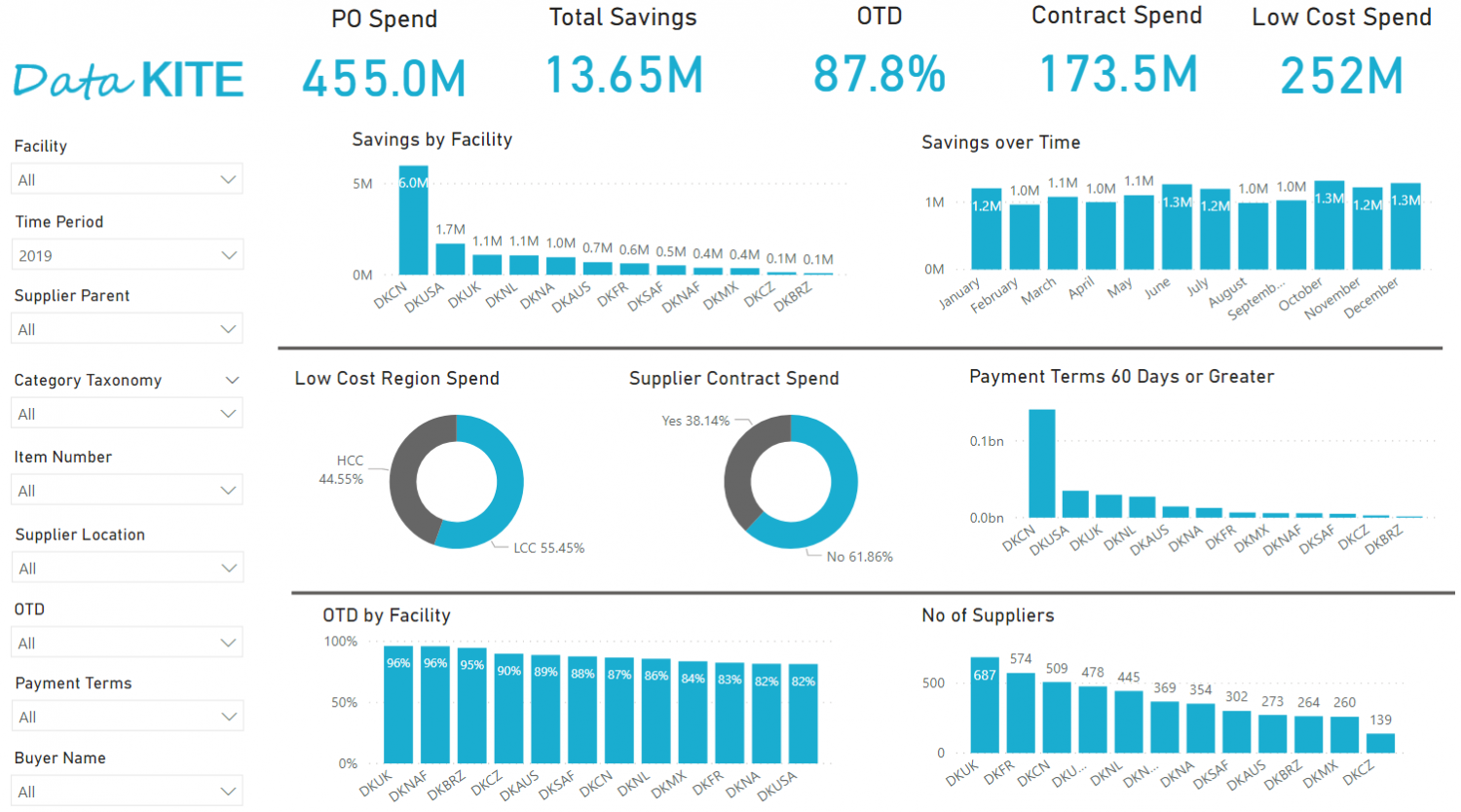 .
3. Improve Supplier Relationship Management.
With the DataKITE supplier analytics and i2B supplier relationship management platform (https://www.i2b-online.com/purchase-to-pay-solution/), you can improve communication between your organisation and vendors. And you can evaluate their performance, holding your suppliers to agreed on standards.
This can improve deliveries while reducing costs to your business.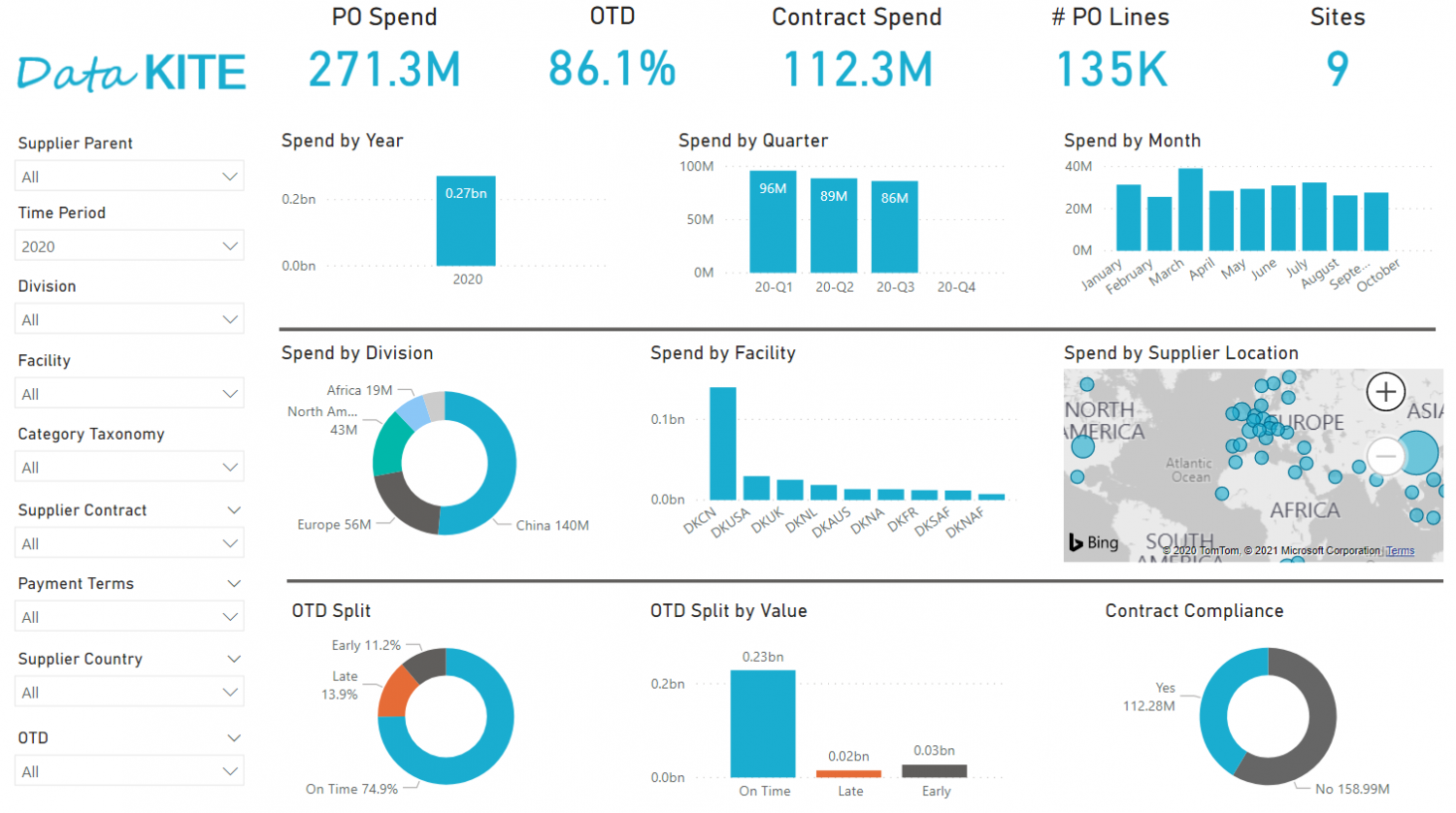 .
4. Educate and Train Staff.
Procurement is a central pillar of your organisation. Optimising cost savings is critical to keep your business functioning. Educate your team on the best procurement practices to ensure you reduce spending.